NexFan Ultra doesn't just provide you with cool air; it is a 4-in-1 device that provides multiple forms of superior air quality, including refrigeration, humidification, air purification and aromatherapy. It produces instant cooling, is ultra-portable with a USB charger and automatically cleans and purifies the internal reservoir.
Scroll down and we'll explain more...
The NexFan Ultra air cooler creates a comfortable micro-climate anywhere you want by providing a breeze cooled by  5℃/9℉, in an instant. Unlike traditional evaporative coolers, we do it faster and enable more coverage with a much longer wind distance.  

Conventional air coolers take minutes to provide the proper ambience, but with NexFan, you'll feel the cold wind in just a few seconds. So, what's the secret? NexFan Ultra has taken cool air to the next level by utilizing an atomizer, where traditional swamp coolers only use a moisture pad. The atomizer provides more spray volume through water depressurization to achieve a rapid temperature drop. Additionally, we have incorporated a 4.8 x 10 cm plant fiber curtain in our device. This thickened fiber is able to soak in more water and thus allows for more evaporation. 
Oftentimes a traditional cooler cannot extend the cooling distance, NexFan Ultra's strong airflow distance can deliver a crisp, refreshing breeze up to 5 ft. NexFan Ultra's makeup consists of a three-dimensional corrugated network of wet curtains and a filter. This structure is able to produce smooth, natural air and a better wind circulation with multiple blowing angles up to 90° apart. The uniformly distributed wind projects powerful cooling and assures no headaches, given that the wind does not blow in a singular/localized area.
Upgraded atomizer, cool faster. (You can also choose to use ice cubes or ice crystals). Can be used under various situations. (such as after exercise, cooking in the kitchen, RV, etc.)
Traditional coolers are hard to clean, and after another use are all but guaranteed to get filthy. Even after repeated cleanings, a dirt invasion is almost unavoidable. Unsurprisingly, this is a common struggle to most homeowners, but NexFan Ultra stands out as an almost maintenance-free solution for keeping your surroundings cool and clean.

What's worse than an unclean filter? The invisible microorganisms breeding in standing water. NexFan Ultra has utilized UV-C technology extensively throughout its structural design. This helps mitigate the dirt buildup on the filter. Even better, we've placed a UV-C LED lamp beneath the cooler's storage tank to continuously illuminate the entire interior of the cooler from all angles. No one should have to trade cleanliness for comfort. Luckily, we've got NexFan Ultra.

An ordinary filter will inevitably get contaminated after long-term usage, and requires high maintenance to prevent molds from flourishing. NexFan Ultra's silver ion cotton technology enhances the cleanliness of the water before outputting the cool air, thus filtering out the mold and the dirt before it ever has a chance. NexFan's Ultra Filter also uses the latest nanotechnology to embed a silver wire in the filter element. No more ceaseless replacing the filter; the makeup of the filter not only saves you the hassles of cleaning but also saves space.

Using its USB charger, you can either plug it into any power outlet or a power bank; use it stationary or portable; put in indoors or out… The decision is yours, but many options are available.

Worried about leaks? Concerned that your camp bed will get soggy or your office desk may get wet? Thanks to NexFan Ultra's enhanced structure, this won't be a problem. Our extensive testing shows the NexFan's fortified container will stay secure even when shaken and rattled, leaving your belongings safe and dry no matter what.
NexFan Ultra can do more with less amount of energy. How so? NexFan Ultra uses lower operating power while working, making  it an accessible "cooler on the go". Compared to other traditional swamp coolers or ordinary fans, it is much more energy-efficient. Charging it with a 10,000 mAh power bank supports a 12-hour service length, which is much more efficient than the leading coolers in the market, especially at a full reservoir of 500ml. You'll never need to worry about interrupting a full-day trip outdoors.

NexFan Ultra is super slick with a uniquely stealthy look and a low profile. With a size of only 14.4×16.1×15.9 cm, NexFan Ultra is very portable and can easily be taken in your luggage. It is shorter than a handbag and weighs less than 1kg . You have plenty of places to go, so why not take NexFan Ultra with you?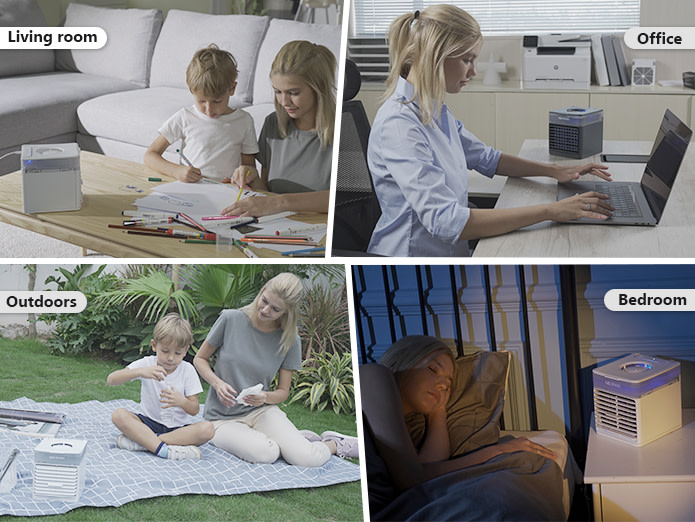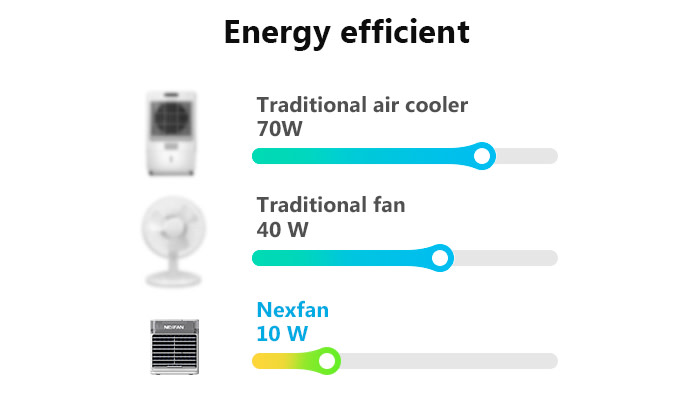 Getting tired of your outdated fan sounding like a blaring Generator? NexFan's new noise-block design keeps the noise level under 68 dB even as it works hard to keep you refreshed. We have enhanced noise reduction level by 30%, so you'll be guaranteed a quiet, soothing personal space, wherever you take it.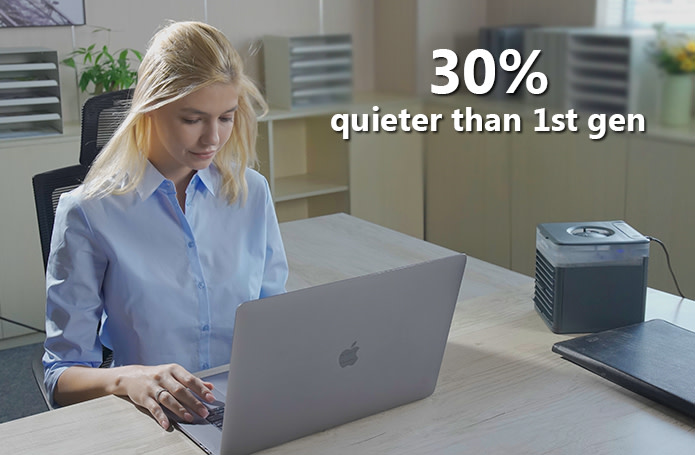 Rather than focusing only on cooling, the NexFan has three other modes upon activation. You can switch between the normal cooling mode and the humidification cooling mode. In a parched environment, cooling in humidification mode is bracing and soothing. In clammy areas, you can turn off the humidification and enjoy the crisp and dry wind.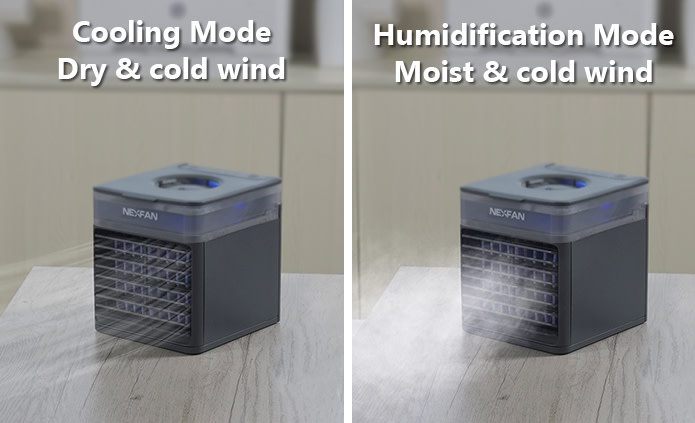 To add a bit more fun, the NexFan features added color options. Our ambient LED light features a rainbow array of 7 colors, letting you set the mood however you like. If you'd like some peaceful time by yourself, add some aromatherapy oil to facilitate a better sleep. Leave your LED on at night as your night light in case of emergency, or just to feel more secure in your surroundings.

Add water to the tank (capacity~500ml)
Plug in the power
Click the ON button